Jason is back from Vegas & watchin' lots o' movies. Here's three new reviews. Be sure to visit him at
http://www.xanga.com/jason_alley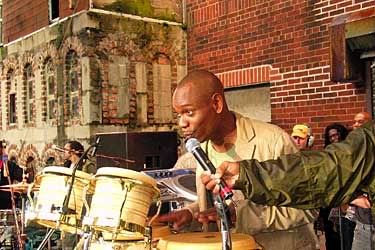 DAVE CHAPPELLE'S BLOCK PARTY
***
Repetitive but warm and entertaining comedy documentary/concert film about a free, all-day block party Dave Chappelle threw for the New York neighborhood of Bed Stuy, featuring spirited musical performances by an array of more artful, politically/spiritually oriented hip-hop and soul artists like Kanye West, Common, Erykah Badu, Jill Scott and many others. There are many moments of fresh, unscripted humor as Chappelle interacts with regular people as well as the artists, but don't expect non-stop, "Chappelle's Show"-style hilarity. This is a true concert film above all other things, and a good one.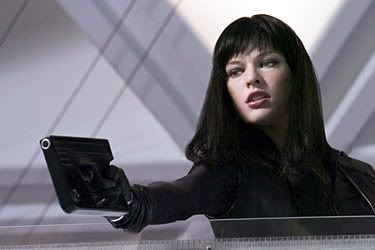 ULTRAVIOLET
**
"Ultraviolet" is following on the heels of another movie that came out a few months ago called "Aeon Flux", also about a sexy female superhero fighting an oppressive government in the distant future. However, whereas "Aeon Flux" was actually rather well done and a lot more fun than anyone wanted to give it credit for, "Ultraviolet" really is a bad movie. Still, the outright cheesiness of it is entertaining if you're a fan of un-self-conscious B-movies, and Milla Jovovich (who I've been a fan of since the awesome and underrated "The Fifth Element") manages to create a likeable and sympathetic heroine, despite the ridiculousness of it all.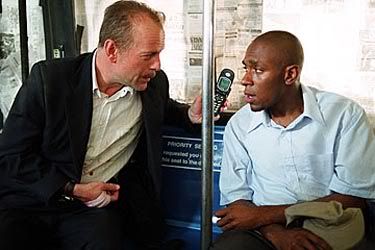 16 BLOCKS
***
A genuinely unusual and original action movie is hard to come by these days, and Richard Donner's exciting "16 Blocks" is about as close as you're going to get. Bruce Willis plays Jack, an alcoholic wreck of a police detective who is given the task of escorting a prisoner named Eddie (Mos Def) to the courthouse 16 blocks away. Eddie is a witness set to testify against a group of dirty cops, and unfortunately for them both, a lot of those dirty cops (led by an oily David Morse) are between them and the courthouse, and plan on making the journey as difficult as possible. Unfolding in near real-time, "16 Blocks" is a consistent and efficient action film, directed by Richard Donner (the classic "Lethal Weapon" films, "The Goonies"), a master of the genre. It's got a 70's-style grit to it, and the strange pairing of Willis and Def remains interesting even when it edges toward sappiness in the end. Then again, Riggs and Murtaugh were known to be a bit sappy as well, so it's all good.