Hey folks, I need to get $300 bucks together to do a small run of "Oh Holy Day and other stories" which is a book I'm self publishing. Buy the good stuff on this page to help support the effort, or hell, just give me money. I'm always down for that.
ICBINC "Funnier Than God"
It's the ICBINC CD featuring 15 weird and funny tracks.
"I felt tense while I was listening to this piece.
I loved it, but I felt tense,"
Jeffrey Callison, NPR
"A mix of old time radio style and irreverent (but surprisingly non-profane) humor, the crew brings to mind some of the funnier bits of Monty Python and vintage Saturday Night Live. These guys could easily be the next SCTV."
Robert Berry, Retocrush.com
It's yours for just $6 plus $2 shipping (add a dollar if you're outside the US)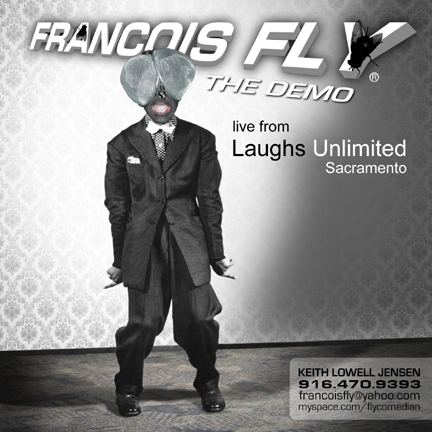 Francois Fly DVD
My hero and client Francois Fly captured live at the historic Steve Allen Theatre in LA performing as part of Cabaret Voltaire.
The bonus feature is not to be missed; Franois Fly's very first appearance at a little comedy club in Sacramento.
The DVD is $6 plus $2 shipping (yep, you foreigners gots to add a dollar. Sorry.)
Buy both for just $10 bucks, and shipping is still only $2, so you save a total of $4 smackers.
Just hit the donate button (on the right column of this site) to send me the appropriate amount of money and in the notes field let me know what products you want. Order now to get them delivered before Christmas.
And watch for a 50 page book of my short stories soon. In fact, if you want to advance order it you can, guarantying you get one since I'm doing a small run of only 100 books. Just paypal me $10 (plus $2 shipping) and let me know you want to reserve a copy.
The book will include my Christmas Story and a full color cover with cool artwork.