Jason has pledged to stop watching EVERY movie that comes out. This is sad news, as I was really looking forward to his review of Larry The Cable Guy:Health Inspector. Guess I'll have to suffer through that one on my own, or shoot myself. I haven't decided which yet. I'll let you know. In the meanwhile here's two DVD reviews. And visit
Jason at his site
.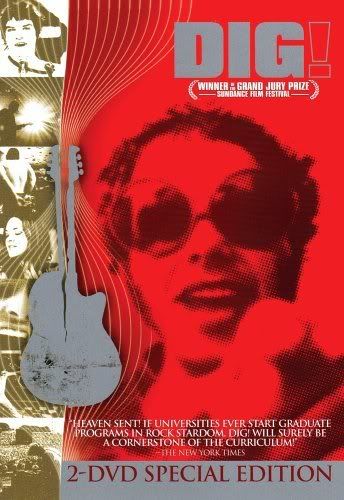 DIG! ***1/2
Surprisingly absorbing and powerful documentary about the turbulent seven year love/hate friendship/rivalry between The Brian Jonestown Massacre and The Dandy Warhols, two underground indie rock bands who almost "made it" but never quite did. I say "surprisingly" because I'm not even a huge fan of either of these bands - but ambition, triumph, conflict and failure are inherently interesting, especially when part of a film this entertaining and well-made that involves people this memorable. The two bands began as friends and peers (both 60's rock revivalists trying to channel bands like the Beatles and Love), but were already quite different. The Dandy Warhols liked to party but were also relatively "together" and distinctly style-conscious and business-minded as soon as record companies starting sniffing around. The Brian Jonestown Massacre, led by a cranky, highly volatile mad genius/junkie named Anton Newcombe, were more interesting artistically, but with Newcombe fronting the band they were a complete mess. "Dig!" is a remarkably intimate chronicle of the seven years during which both bands get signed (The Dandies first) and both are touted by the press as The Next Big Thing and then aren't, gradually becoming bitter enemies (or, rather, it becomes Anton Newcombe Vs. Everyone On Earth more than anything else). Fast paced and always interesting (drugs! parties! fistfights! tambourines!), as well as a nifty study of what it's like in the world of rock n' roll when you're on the lower rungs of the ladder, trying to work your way up.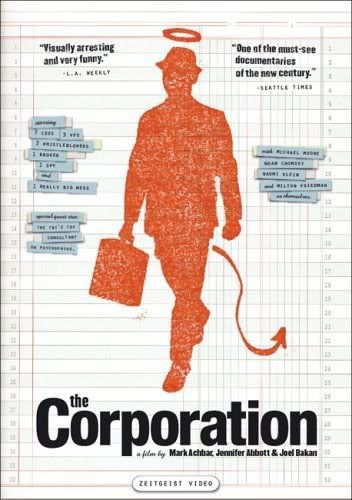 THE CORPORATION ****
Lots of documentaries aim to outrage. This one actually does. A staggering, overwhelming film about the way corporations have invaded practically every aspect of our daily lives (and one day perhaps our lives themselves), sacrificing everything to chase the Almighty Dollar, it's easily one of the best documentaries I've ever seen. Starting right at the beginning, when corporations first came into existence (only about 150 years ago), and ending with a look into a future which will depend on the choices that we and the corporations are making right now, "The Corporation" is disturbing, riveting, and eye-opening stuff (your jaw will hit the floor in disbelief more than once). It's lengthy for a documentary (almost 2 1/2 hours), but unlike most documentaries (which start to feel long around the 2 hour mark), "The Corporation" actually seems too short! The sheer wealth of information it covers and the constant stream of food-for-thought that it gives you is smoothly and stylishly edited and presented, so that it never loses your attention even for a second. Truly a must see, for everyone.