Here's a new review from Jason. Many more at his site. I'm working on part four of my trip through the Yucatan and will have it up soon at mostly true.
THE THREE BURIALS OF MELQUIADES ESTRADA **1/2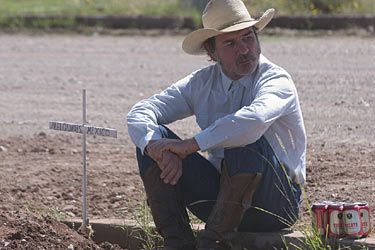 Tommy Lee Jones, making his directorial debut, stars as Pete Perkins, a grizzled old rancher living in southern Texas. One day, his best friend, a kind illegal immigrant named Melquiades Estrada (Julio Cesar Cedillo), is accidentally killed by Mike (Barry Pepper), an overzealous, careless border guard. Pete kidnaps Mike and forces him at gunpoint to dig up Melquiades' body and accompany him to his hometown in Mexico so he can have a proper burial. "The Three Burials Of Melquiades Estrada" wants to be a hard-boiled, gritty Western/character study in the tradition of Sam Peckinpah's notorious cult classic "Bring Me The Head Of Alfredo Garcia", and it succeeds at times, with long passages that are arresting and powerful. Overall, however, the movie lacks rhythm and a sense of forward motion; it rambles and meanders a little too much. Attempts at dark comedy involving the gradually decomposing (but distractingly fake-looking) corpse also fall flat. Worth a look, if only for Jones' sublime performance - it's just not as good as I wanted it to be.